Text messaging is the most attention-grabbing, immediate, and convenient form of communication. In fact, 98% of all text messages get read, offering unparalleled opportunity to reach all of your subscribers. SMS Marketing Services's texting service is easy to use, reliable, and scalable to hundreds of messages per second. Better yet, our system is uniquely smart enough to accurately target your messages, so you get the results you need.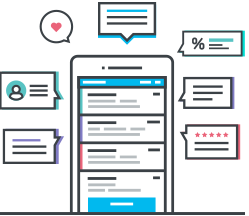 Why SMS Matters
Texting Increases Engagement

Text messages are responded to 7.5x more often and 60x quicker than emails, giving you high ROI.

Texting is Preferred

Over 60% of consumers would rather text than call when given the option for customer service.

Texts Get Seen Quickly

90% of text messages are opened within 3 minutes of delivery.

Texting is Becoming more Expected

89% of consumers say they want to text message to communicate with a business, but only 48% of businesses are equipped to do this.
Discover Our Powerful SMS Features
Create compelling text messaging campaigns with our host of tools.